Slideshow is paused - Move cursor from this window to resume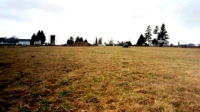 Tony Zgraggen has thirty acres near Enumclaw. He has three contiguous ten-acre lots. Tony lives in a small room attached to his machine shed. Tony wanted to build his dream home on one of the lots, about where his tractor sits in the photo. The farmers who lease his property practice crop rotation between corn and hay. Corn does not grow well in wetlands.
When Tony applied for a building permit from King County he was told that he could not build his house because his property was Class 2 wetlands. King County uses different wetlands designations now but the result is still the same. No new development.
Across the road and slightly south (less than 1/4 mile) is a fire station. It was built while the same regulations that prevent Tony from building were in place. The only difference was private citizen versus governmental entity. As the second picture clearly shows the fire station property floods. Neither property is a wetland but King County does everything in its power to prevent citizen taxpayers from building on their properties in the rural area. This story clearly shows that saving "wetlands" is not in play here. Neither property is actually wetlands. The real story is abuse of power to promote an ideology.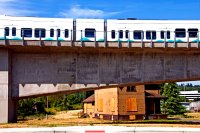 This could be what lies in the future unless we all do something. Cities decide what property they want for the new line of transportation and take houses and property away from owners, condemn houses to be torn down so they can build what they want, on your old property. Note the boarded up house that will be torn down that can be seen under the new roadway in the air they have built with your tax dollars. You didn't even have a say in any of it.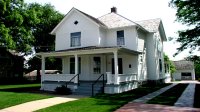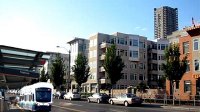 When you got married and started raising your kids you bought land and built a nice house in the suburbs. Your kids had lots of room in their surroundings, lots of friends living in similar circumstances, and schools nearby that they all went to with the opportunity to develop close friendships. You had the foresight to buy extra land around your home thinking that eventually your kids too could build their dream homes nearby. Their families and your grandkids would be close to their grandparents and the special relationships that come with all that.
But instead you may find out the bureaucrats in city hall have decided your area has developed as far as is acceptable to them. Or you might have what they decided are wetlands where you grew crops until the kids were ready for the land. You may not be allowed to split your property as planned. Your kids are not allowed to build next door. Your dreams may be shattered by city hall.
Instead, they will be forced into living in small places, stacked together, their friends and neighbors now in the apartment next door, not across and down the street as you had planned for them. City hall instead has decided what's good for them. Available land to build is far away and way too expensive for your kids. Your nearby family dreams have been shattered by city hall.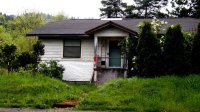 Paul Thiry has a home on May Valley Road in the Renton, Washington highlands. In the early 1980s, May Creek was moved close to his home to make way for some new homes nearby. Moving the creek caused his home to start flooding. Mr. Thiry complained loudly enough that the King County Executive, Randy Revelle, came to May Valley to see the problem for himself. There was increased flooding in other parts of the county so Mr. Revelle created a new division of the King Count Department of Natural Resources called Surface Water Management Division. A new tax was placed on rural property to fund the efforts of Surface Wate Management.
By 2000 the county had collected $180,000,000 to manage surface water and flooding was dramatically worse all across the county. The steps to Mr. Thiry's house had also sucuumed to the flood waters. He tore them off and started to rebuild them. He received a stop work order (red flag) because he did not have a permit for the work of rebuilding three steps. Mr. Thiry is an architect so he drew up plans, filled out the application and submitted it all to King County. His application was denied on the basis that the two 4X4 posts he proposed to hold up his handrail would increase the flood level on his upstream neighbors. Those are the same neighbors for which the creek was moved in order to accomodate their homes.
Meanwhile, King County was forcing the state of Washington to place huge root wads with sections of stumps attached into May Creek approximately 150 yards downstream. The State was required to do so as "mitigation" for the redesign of the intersection of State Route 900 and May Valley Road where several people had died due to the inadequacies of the original design. People are no longer dying at that intersection so the increased flooding on Mr. Thiry's house is probably worth it but Mr. Thiry still has no steps.
You can get more information about this and see video as part of the May Valley Video.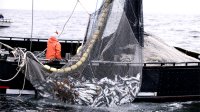 American property rights are based on the fundament union of human labor and natural resources. Those who wish to change America to a collectivist state devoid of property rights achieved a stunning success by removing the once mighty timber industry from our vast renewable forests via the spotted owl. We now know that it is the bigger barred owl that threatens the spotted owl, not loggers, but the die has been cast. False accusations of harm to some species can be used to move people off the land.
Now that the loggers have been moved into the cities, the rural areas of the great Northwest are being attacked using salmon. We are told that human misuse of watersheds is causing the extinction of Pacific Salmon and that everyone living in those watersheds must move into the cities.
Many of the numbers used in this article are based on the work of Dr. Leonid Klyashtorin of the Russian Federal Research Institute of Fisheries and Oceanography. He has been studying salmon fluctuations since 1980.
It is helpful to think of the North Pacific as the "pasture" for pacific salmon. Just like any pasture it has a maximum carrying capacity which varies from year to year based on the amount of food available from species lower in the food chain. The carrying capacity of the North Pacific for salmon is 1.4 to 1.7 million tons in periods of maximum production and 600 to 800 thousand tons in the minimum periods. We harvest about 70% of the fish so the harvestable amount will vary from 1.2 million tons to 420 thousand tons.
Dr. Klyashtorim has established that salmon and several other species both in the Pacific and the Atlantic achieve peak populations roughly every 60 years. The last peak cycle topped out in 1995 with a harvest of just less than 1 million tons. Shortly thereafter runs returning to Washington were declared endangered and the war against rural landowners was begun and continues.
You can read an overview questioning the salmon recovery efforts in the Northwest in the January-February 2006 issue of The Naked Fish. See Dr. Robert Crittenden�s story of the sordid agenda behind salmon politics at http://capr.us/PDFs/Crittenden_Two_Studies.pdf (206 page pdf).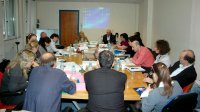 The United States of America was created as a Constitutional Republic as were the individual states. Local governments such as cities and counties are usually democracies though some have charters or similar instruments that serve much the same purpose as constitutions. Voters elect representatives to federal, state and local governments. Those representatives are supposed to govern based on the will of the majority while respecting the rights of minorities as provided in the constitutions.
Unfortunately, more and more governing is being done at the regional level by appointed boards of bureaucrats, politicians and activists that have not been elected to their regional position by anyone. They spend your tax dollars to decide how to manage the lives of everyone in their region with no regard for constitutional guarantees. Seats at the table are normally filled by hand-picked representatives of whatever agenda is being pushed. Property owners are usually under represented if they are represented at all.
Google WRIA, PSRC, ABAG and MTC to see if any of these entities actually represent you.