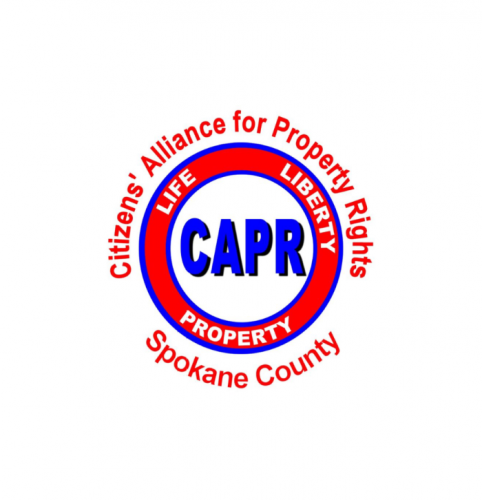 Annual Spokane CAPR Luncheon and Fundraising Auction
Saturday – May 6, 2023
Airport Ramada by Wyndham
Spokane International Airport
Check in starts at 10:00 AM—Finale 2:30 PM
First Mini Seminar starts at 10:30 PM
Glen Morgan-"A State of Deception—Washington's Descent into Lawlessness"
Second Seminar starts at 11:00 PM
Steve Busch—"Cores, Corridors & Carnivores!!"
Third Seminar starts at 11:30
Rob Chase—"Is the 51st State Doable?"
Program Starts at 12:05 PM--Lunch Buffet 12:15 PM
Special Guest Speaker: Brian T. Hodges, Attorney
PACIFIC LEGAL FOUNDATION
Brian Hodges is a senior attorney with Pacific Legal Foundation, where he advocates for liberty-based solutions to the housing crisis and defending the right of individuals to make reasonable use of their property, free of unnecessary and oppressive regulation.
"Property Rights Are Individual Rights"
See recent court victories here!!! https://pacificlegal.org/
$35 each (Cost of meal is $32.00—Checks preferred)
Menu: Chef carved New York Strip with rosemary au jus and creamy horseradish sauce
Fresh fruit platter with pineapple dip
Caesar Salad
Au gratin potatoes
Fresh seasoned green beans
French hard rolls with softened butter
Chocolate mousse cake
Phone Gloria Clark ASAP to reserve your seat!—509-927-0412
Special meals may be ordered.
GU ticket baskets--other fun food and wine baskets--will be auctioned! Call Gloria to donate auction items!!!!!!!!! GU Support CAPR!!